Anatomy of Baking Wedding Desserts for 300 Guests (or "How I lost my mind in 7 short days")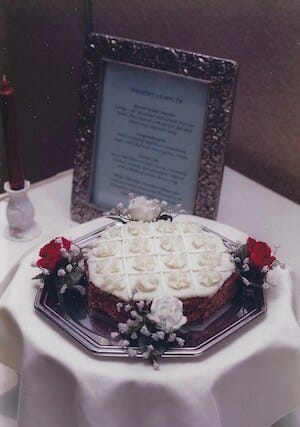 Back in 1999, I volunteered to prepare a dessert table for my godchild's wedding. How easily these words flowed out of my mouth: "Why don't we serve real desserts before the wedding cake instead of just cookies?" as I mentally pictured a buffet-style dessert table with a dozen or so cakes.
More fatal words were never spoken.
We have big weddings in my family and 300-400 people at the reception is not uncommon. These events include cookie tables with every ethnic variant of pastries known to western Pennsylvania steel workers. After toasts were made and the formal cake cut, a procession of little old ladies could be seen scurrying out the door clutching an overflowing plate of cookies.
After-dinner Insulin shots should have been offered instead of coffee.
The final guest count for Jenn & Brian's wedding was 280 and–with a 20% tolerance–my initial idea of 12 cakes was seriously flawed. Also, let's be clear: I am not a professional baker, nor a professional chef, nor a professional anything that remotely prepared me for baking this quantity of food.
Did that stop me?
Obviously not, since the story continues. Because here was my vision: you're at a restaurant and they bring a dessert tray over and you JUST can't decide which one to order because you want them all? Well, my plan was to give everyone at the wedding a sampler of all the desserts. That way, they could be pre-plated and served after dinner before the actual wedding cake was officially cut.
Huh. It actually sounds doable when I say it like that.
The final list of desserts were:
Gâteau Grand Marnier, a genoise sponge cake sliced into three thin layers, saturated with Grand Marnier liqueur in simple syrup, apricot jam, and bittersweet chocolate icing.
Carrot Cake with White Chocolate Cream Cheese Icing
White Chocolate Hazelnut Cheesecake
Croquembouche: A tower of cream puffs stuffed with pastry cream and coated with caramelized sugar, decorated with mini-roses and spun sugar. (Full disclosure: I cheated on this one.)
High quality and fresh ingredients were paramount: I ordered thirty-five pounds of chocolate (Callebaut and Lindt), just-harvested hazelnuts from Oregon and 500 empty cream puffs from France. With a week's vacation to prepare desserts for the Saturday wedding, I flew into Pittsburgh from Florida on Saturday and on Sunday, Mom and I drove 4 hours east to Penn State University for 50 pounds of their cream cheese and 50 pounds of butter. PSU have a huge agricultural college and sells the by-products of all those cows with the motto: "Four days from cow to ice cream."
Bought the remainder of the baking supplies on Monday at Sam's Megahugemutantwarehouse, clutching my spreadsheet and pushing a cart with 35 pounds of sugar, 25 pounds of flour, 10 pounds of organic carrots, dozens of eggs and five fresh pineapples. I had a sudden panic attack in the checkout aisle and whipped out my calculator to determine if the amount of pastry cream I needed for the cream puffs was sufficient (Math 101: my recipe will provide 0.13 cups of pastry cream per puff. Next question: What the hell is 0.13 of a cup?)
Fortunately, my mother has a large baking area in her basement: cafeteria-size convection oven, huge 40-QT Hobart mixer and lots of stainless steel bowls. I used them all and bless her heart, Mom washed as I baked. I worked from 7:00 AM to midnight Tuesday through Thursday and never realized feet could ache that badly, but stubbornness, extra-strength Tylenol and booze got me through that phase. Lots of booze.
The Frangelica cheesecakes were first to be baked, then 5 half-sheet carrot cakes, then tubs of white chocolate icing, then 5 half-sheet brown-butter genoise, then 4 quarts of chocolate buttercream, then quarts of liqueur-enhanced simple syrups, then gallons of pastry cream for the croquembouche. Those damn, damn cream puffs. The only pastry I thought would cause no problems because they were purchased and just needed to be filled and coated with caramel.
Oh, you silly, silly woman.
As it turns out, my pastry tip couldn't pierce the crust of the purchased puffs. Test runs on my home-made puffs had shown a 1/4″ opening was perfect and I'm an engineer and we're anal-retentive like that. But it wasn't working–these purchased puffs were cracking so I was forced use a smaller mini-plunger and could only fill three cream puffs before having to stop and reload the pastry cream:
Fill, fill, fill, stop, open plunger, refill plunger, wipe off plunger, wipe off hands, fill, fill, fill…stop…swear…open plunger…fill plunger…ad nauseum.
It was midnight on Friday, 100 puffs were finally done, 230 more were looming in the background when suddenly I had an epiphany. I didn't CARE if the cream puffs cracked! I grabbed that pastry bag with my burnt, blistered fingers…
…oh ya, THAT happened every time I dipped one of these little suckers in scalding caramelized sugar where–by virtue of physics and the "center of mass" theory–they would flip over onto the TOP of the creampuff and immediately adhere to the closest dipped puff, demonstrating conclusively the Nils Bohr postulate of covalent bonding between negative electrons and positive pastry protons…
…and yet I continued to fill those puppies. Bless its artery-clogging heart, my pastry cream (100 egg yolks, 1 gallon of milk, 1/2 gallon of heavy cream, six cups of sugar) held the puffs together even when they cracked.
Sadly, the spun sugar crown for the croquembouche was an success that literally dissolved into an unmitigated fiasco. Standing on a chair with a laundry rack below me and a whisk I had eviscerated, I spun drapes of perfectly delicate threads from molten sugar hot enough to flay skin, gathered them up and cloaked the tower in an ethereal swirl of airy confection. It was perfection. And then on Saturday morning it all collapsed like a drug-addled ballerina because it was raining. Sugar and humidity…they just don't mix. Sort of like my brain and sanity. Or reason.
The final pastry result was 330 filled cream puffs, 30 Grand Marnier cakes, 15 white chocolate cheesecakes, and 5 half-sheets of carrot cake decorated with tiny blooms of cream cheese icing. Everyone at the reception received a slice of each, plus a golden-wrapped Ferrero Rocher hazelnut chocolate candy.
For the display table, I made standard-size versions of each pastry with a framed description. A heavy silver candelabra matched the silver frame for the dessert descriptions and platters for the four cakes. Each was decorated with roses or baby breath and a huge bouquet of burnt orange roses finished the table off. This was in addition to the gorgeous 4-tier wedding cake made by, you know, a professional.
On Saturday, just before the reception began, the manager of the catering service was cutting the 300th piece of carrot cake when he turned to me and said: "I'm SO OVER cutting carrot cake." Then he noticed the look on my face and said, "But I can see you've already been there."
However, the end result was worth it. My brother picked up the dessert display card at our table and told me which one he would pick. When I said he was getting ALL of them, the look on his face brought the whole effort full circle.
Jenn's wedding had a special moment I had hoped for her and no little old ladies crept out of the reception hall with cookies crammed in their pocketbooks.