Since I'm bored with baking pastries I've been reviewing vegetarian and vegan cookbooks from the library. I'm gonna state right here and now that vegans get my utter respect because it is damn hard to make something without using 90% of the ingredients you grew up with. Meat is an easy one for me to eliminate when trying a recipe. It's the dairy--the milk and the heavy cream and the half/half and the butter and yogurt and cheeses (cream, parmesan, gruyere, feta, romano, sour, boursin, cheddar, monterey jack, pepper jack, paneer--and those are just the ones in my bin right now) that I am struggling with. Struggling and failing. Oh yes...absolutely failing.
So anyway, I have this book "The Weekday Vegetarian" by Jenny Rosenstrach. Here's her blog:
Dinner: A Love Story Recipe Index
This latest book was her attempt to get the family (hubby and two teen-age daughters) to go vegetarian just during the week. Weekends were back to normal family meat-based favorites. And this lima bean recipe was a test for me. See, like the FBI, I have a "most hated" list that developed as a child and has continued throughout my life, gradually winnowing down as my taste buds matured or food began tasting less...less.
Lima beans were in the top five. You could always find my empty bowl at our table of 8 when Campbell's vegetable soup was served because it had the stray lima bean, stranded and abandoned at the bottom. But Jenny bragged about this simple soup; it's also on the cover and I actually went looking for the recipe, not realizing the star attraction was my arch nemesis.
So I decided to put this life-long hatred to a test. The recipe is simplicity itself. Soak then cook beans with salt and oil until soft, then add other stuff. Jenny recommended heirloom baby lima beans but I located dried baby lima beans and that was good enough for a test. She also said she wasn't including the option to use canned lima beans because the broth is key for the taste.
She was right.
1 lb dried lima beans
1/2 medium onion, chopped coarsely
1 TBL kosher salt
1/4 C EV olive oil
1 dried bay leaf
To serve:
leaves from fresh thyme
1 TBL fresh lemon juice
pesto (optional)
parmesan (optional)
more olive oil for drizzle
Cover dried beans with 2" of water and soak 6 hours or more. When ready to cook, ensure there is 1.5" of water over beans, add onion, bay leaf, salt and olive oil. Simmer 40 minutes. When beans are soft, ladle into bowl with broth and add toppings.
Marilyn's Note: I followed this exactly and the only key change was it took much longer to get to soft bean than 40 minutes. My beans soaked overnight, simmered 40 minutes, then another 20 minutes, then ANOTHER 20 minutes....so nearly an hour and half for me. The baby limas were small when dried but ended up full size once rehydrated and cooked. I can't imagine what size a regular lime bean ends up like.
Anyway, the moral of this story is, the beans were not mushy nor mealy and not a single one was left at the bottom of the bowl. I only wish I had crusty bread worthy of it.
Take note: Cantaloupe just moved up a notch on The List.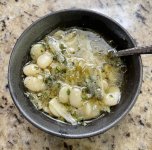 Last edited: