I've seen Rancho Gordo pop up on occasion, but since I wasn't (or...didn't used to be) a bean eater, I skipped those. Then I read an article about Rancho Gordo in the New Yorker. Then I found them in Asheville because I'm apparently susceptible to influence. Then my niece sent a Rancho Gordo gift package.
It was obvious fate wanted me to try these beans.
So I finally did.
Ya. Totally worth it.
I soaked a one-pound bag and then split the uncooked beans into two recipes to test. Happily 1 pound of dry beans = 2.75 Cups dry and 5.5 cups soaked, so it was easy to split. The first (and my favorite) is from Rancho Gordo's site:
Sheamus Feely Vegetarian Indian Cooking Sides Dish of Heirloom Cranberry Beans recipe with Rancho Gordo dried cranberry beans and Mexican Oregano
www.ranchogordo.com
Cranberry Beans with Garam Masala
1/2 cup white onion, small diced
1/4 cup carrot, small diced
1/4 celery, small diced
3 cloves garlic, minced
1/4 cup sweet potato, small diced
2 tbl. ghee or clarified butter
2 tbl. Garam Masala
5 cups chicken or vegetable stock
1 cup Cranberry Beans (soaked 4-8 hours)
1 tbl. lemon juice
Salt to taste
To prepare: 1. In a large pot or Dutch oven, sweat all of the vegetables in the ghee until translucent. 2. Add the Garam Masala and stir to combine. 3. Add the stock and beans and cook, covered, for at least 2 hours, or until beans start to become creamy. Add the lemon juice and season with salt. 4. Serve over Basmati rice and garnish with goats yogurt, mint and cilantro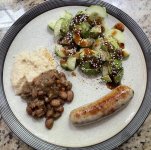 The second recipe came from a fictional book set in New Mexico titled
Pie Town
by Lynne Hinton. I'd read that using beer with beans is a good thing, but this is not necessarily something I believe in because firstly, I don't like beer. Secondly, I don't like beer. Even though I live near Asheville, the Brewery Capital of America.
So first I had to buy beer.
This random Internet photo (ie: not me) approximates the dilemma I faced trying to find a stupid single bottle of beer for this recipe.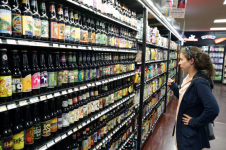 Did I want a pilsner? Winter wheat or porter? How about a stout? Lager? IPA? Pale Ale? Wait! There's one called Dragon's Milk!
That
sounds promising.
Good grief.
I finally picked two 12-ounce cans of varying providence and went to check out. Things were moving along until the cashier charged me $10.99 for one can and $9.99 for the second.
Good grief.
Again.
After I got THAT settled (at $1.66 per can), I followed this recipe:
Oris's Famous Cowboy Beans
4 Cups dry pinto beans
2 slices bacon
1 small can diced green chile
1 medium onion, diced
2 14-oz cans tomatoes
1 bottle dark or amber beer
1 tsp garlic
1/2 tsp cumin
1 tsp salt
pepper to taste
Soak Beans 8-12 hours. Drain and rinse. Add all ingredient to pot and cover with water. Bring to boil then simmer for 2 hours.
Sounds promising, right? And I'd already scored on the Garam Masala recipe, so this should work, right?
Oh. So not so.
Since I was only making half the recipe, I cut everything down except I forgot to halve the green chile. So the first foremost taste was bitter. Bitter and boring. Then I added herbs (dried and fresh), then something salty, then something sweet, then tomato paste. More broth. More broth flavoring. The end result is...okay but I won't be going down this path again.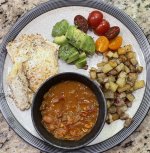 Last edited: