We're having another Pittsburgh Cookie Table for niece's wedding in May and I'm trying to determine what I can do while in NC before coming back up to Pittsburgh to bake.
I made almond
Sablé
for the last wedding, but made/rolled/baked everything in PA.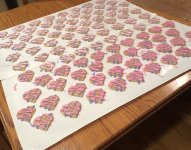 This time I'd like to roll out, cut the hearts, and freeze them (separated with parchment) in NC, then bake in PA the week before the wedding. I plan to dip one edge in white chocolate and coat that edge in crushed pistachio.
Thanks for your help.
I've attached the recipe for the sables