When it defrosted enough tonight to finally unwrap the butcher paper, this is what she found: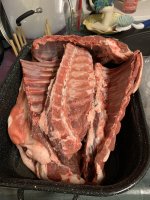 not exactly a roast to feed all those guests. At 8:45 pm tonight she started calling grocery stores and found a boneless leg of lamb they put on hold for her. So, hopefully thanksgiving disaster averted.
For the record, this was supposed to be a lamb shoulder roast, bone in and came from the halal butcher store.