Things were going along FINE with my preparation for the PCT (Pittsburgh Cookie Table) portion of the May wedding. Fine! I had finished 14 contributions, either baking them or preparing the dough to be baked in PA right before the wedding. This brought my total up to 1,400+ cookies
Then Life slapped me right upside the head. Got a text from MOTB (my sister) saying 4 people have RSPV'd as GLUTEN-Free and 3 had RSVP'd as NUT-free.
Really?
Now me, being me...I had already asked this EXACT QUESTION MONTHS AGO! Do I have to worry about gluten? Do I have to worry about nut allergies? Vegan issues? And the answer was No. No. A thousand times NO! It's a wedding. There will be cake. Just make cookies.
So I didn't worry about it. A quick glance at my spreadsheet indicates 11 out of 14 items have nuts and only ONE item is gluten-free. And that would be the 16 cups of candied walnuts.
But not every wedding includes a few thousand cookies as part of the event...with boxes for each guest to take home a dozen cookies each. It's like letting a kid loose in a candy store...only in this case it would be a bakery.
Both my sister and I suddenly felt bad about leaving these folks out of the fun. She took over making nut-free cookies and I worked the GF. Each of these 7 guests will have a box already filled and labeled at their reception seat. That way we won't have cross-contamination and they can avoid the cookie stampede later on.
From my end I wanted to provide enough variation that they wouldn't feel slighted and this was tonight's entry. My house smells AMAZING!!!
Seriously. Someone should bottle this smell...you could sell ANYTHING to ANYONE if you pumped in this smell.
pastry chef Tzurit Or | Updated on January 1, 2019, Food & Wine magazine
Cooking spray
1 cup gluten-free flour with xanthan gum (such as King Arthur Gluten-Free Measure for Measure Flour) (about 4 1/4 ounces)
3/4 tsp baking powder
1 1/4 cups fine almond flour (about 4 1/4 ounces)
1 cup granulated sugar
6 tablespoons unsalted butter (3 ounces), softened
4 large eggs, beaten
2 teaspoons vanilla extract
3/4 tsp kosher salt
1 cup crumbled or chopped vanilla sesame halvah (about 4 1/2 ounces)
1 tablespoon sesame seeds
Step 1 Preheat oven to 325°F. Lightly coat a 9- x 5-inch loaf pan with cooking spray. Line pan with parchment paper, allowing 2 inches of overhang on all sides. Whisk together gluten-free flour and baking powder in a medium bowl; set aside. Beat almond flour, sugar, and butter in bowl of a heavy-duty stand mixer on medium speed until well combined and crumbly, about 4 minutes. Gradually add eggs, beating just until combined. Stir in vanilla extract and salt. Add flour mixture, beating on low speed just until incorporated.
Step 2 Pour batter into prepared pan. Sprinkle halvah and sesame seeds evenly over batter. Bake in preheated oven until deep golden brown and top springs back gently when pressed, 55 minutes to 1 hour. (A wooden pick inserted in cake will not come out clean.) Transfer pan to a wire rack, and let cool slightly, about 30 minutes. Using parchment paper as handles, lift loaf from pan, and cool completely on wire rack, about 1 hour. Slice and serve.
Marilyn's Note: I found the halvah (made in Lebanon) at an Lebanese restaurant/market in Asheville. They only had plain or pistachio, so I went with the pistachio.
All my other GF entries are baked in 8x8" pans, so I opted to do that here rather than use a 9x5" bread pan. I started out at 40 minutes...then 5 minutes more, then 5 more. Edges tested done before middle but that's life. The only change I made was to add more nut to make the pistachios obvious...especially since I didn't have to worry about that aspect. That's Sarah's problem.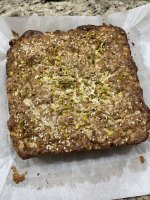 Last edited: