I found the recipe at this site: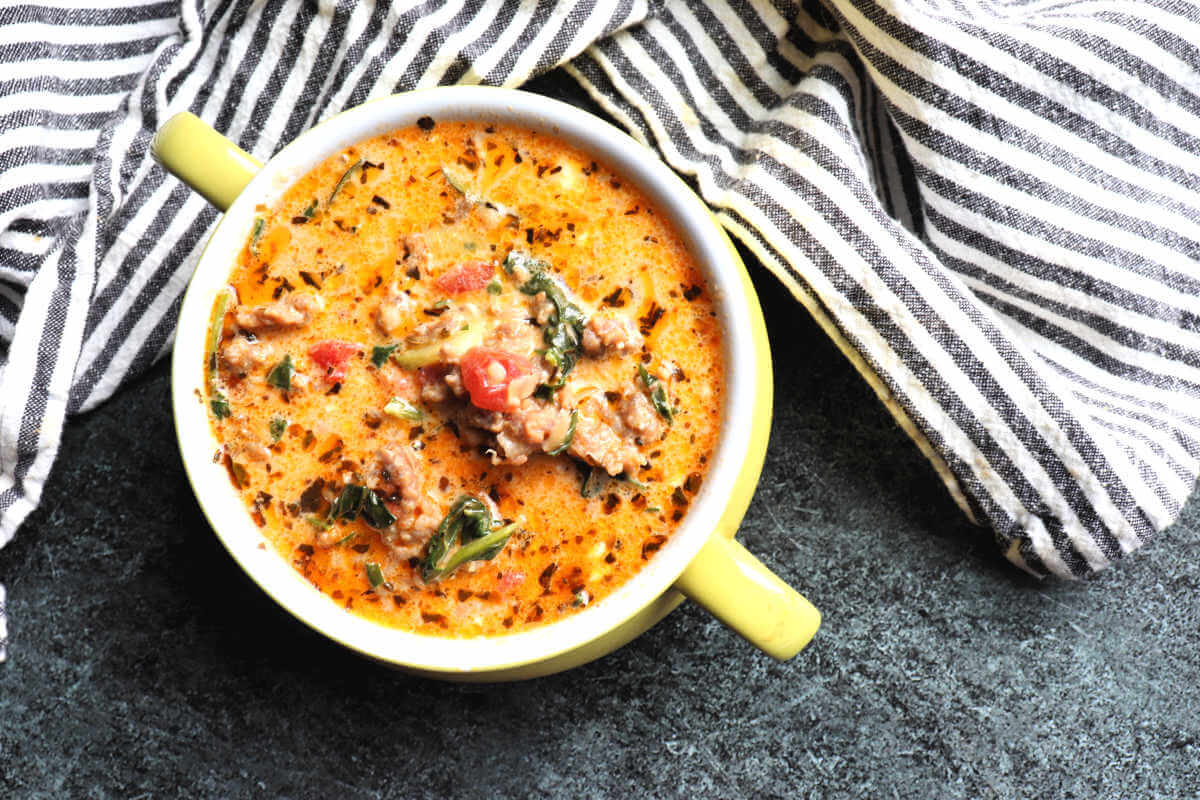 Creamy Keto Italian sausage soup aka Keto Zuppa Toscana is a flavorful healthy family dinner. The perfect low carb, gluten-free soup to meal prep for a keto diet or for anyone!

explorermomma.com
I'm not following a Keto diet, but did want to try a recipe. To my mind, Keto is just a fancier way of saying
Atkin's Diet
from the 70s. It's protein plus fat--skip the carbs. Keto seems to allow the same lower calorie veggies as Atkins. I've always thought it worked because (and I'm going to seriously generalize here) most people are overweight (I'm counting myself) because of high calorie foods--the majority of which are processed carbs. No one ever gained weight eating a plate of carrots. But a person will gain weight eating french fried potatoes or potato chips (100 calories for plain potato versus 400 for the half the potato fried). Portion size is also to blame. No restaurant will pile on half a plate of carrots, but they will cover it with french fries.
So I think the Keto diet works because the overall calorie count is lower...even when fat is included. Because no one is going to eat a dinner plate full of butter, but a dinner plate full of shrimp sauteed in butter is both filling and satisfying.
Back to the recipe. I had a 1 lb package of Italian sausage to use up and found this recipe. However, I was still slightly horrified at the thought of adding 8 oz of cream cheese, so I used 8 oz of sausage, 1/3 of the cream cheese (lower calorie Neufchatel) and doubled most of the veggies (onions, zucchini, and spinach). I left the can of tomatoes as is, but drained them first, used 3 cups of broth and left off the parmesan.
I'm quite happy with results. The only part I disliked was my inability to get cooked ground meat to a crumbled state without having to use a food processor. No matter how much I stirred and crushed the cooking sausage, it still remained in 1" chunks.
1 tbsp butter
1/2 onion, chopped **
2 cloves garlic
4 cups chicken bone broth **
8 oz cream cheese **
1 lb Italian sausage, (mild or hot) **
1 14 oz can diced tomatoes
1 zucchini (small), chopped **
2 cups chopped spinach **
1 tsp dried basil
1 tsp dried oregano
1 bay leaf
parmesan cheese **
1/4 tsp cayenne pepper (to taste)
Melt the butter over medium-high heat and add the onion, garlic, and Italian sausage to cook for 4-5 minutes or until onion is soft and meat browned.
Pour in three cups of the bone broth then add the zucchini, basil, oregano, bay leaf, cayenne pepper (if using), and diced tomatoes.
Bring to a boil then lower the heat to simmer.
Place the remaining cup of bone broth and cream cheese in a blender and blend until smooth. Pour into the rest of the soup and stir.
Mix in the chopped spinach and once wilted serve the soup or allow to simmer for another half hour or more for the flavors to combine.
Serve topped with shredded parmesan cheese.
** Ingredients I adjusted
Last edited: